Microlink Solutions Berhad (Microlink) has scooped one of the most prestigious business awards in Malaysian corporate circles as part of The Edge Malaysia-Centurion Club Awards for 2022. The Edge Malaysia-Centurion Club celebrates and recognises the country's best-performing mid-capitalisation (cap) public-listed companies with a market cap of more than RM100 million and not exceeding RM1 billion.
The awards are presented in three categories namely:
Highest Growth in Profit After Tax over three years
Highest Return on Equity over three years, and
Highest Returns to Shareholders over three years
across various industry sectors.
Microlink secured the Award for Highest Returns to Shareholders Over Three Years in the Technology Sector. Other sectors include Construction, Consumer Products & Services, Energy, Financial Services, Healthcare, Industrial Products & Services, Plantation, Property, REIT, Telecommunications, Media & Utilities, and Transportation & Logistics. A total of 36 awards were presented to 29 companies this year.
Microlink Group CEO Ramlee Abdullah and Group CFO Eddie Thoo were on hand to receive the Award at a celebration event held at Hilton Kuala Lumpur, in the presence of Minister of Finance Malaysia, YB Senator Datuk Seri Utama Zafrul Tengku Abdul Aziz. "We are truly honoured to have been selected as the winner in this category and to be recognised within this prestigious circle of business excellence," said Ramlee.
"Our concerted efforts over the last few years to grow and strengthen the business are bearing fruit and this Award serves as a clear validation of those efforts. We would also like to take this opportunity to congratulate all the other companies who have achieved recognition with this year's Awards," he added.
Microlink's business is now organised in four clear pillars spanning FSI, Telecommunications, Public Sector and Trading & Distribution streams. The Centurion Award comes on the back of several years of steady financial growth for Microlink during which the Group's sound track record of complex project implementation has enabled expansion beyond its strong legacy in the Financial Services Industry (FSI), into telecommunications and the public sector.
This financial performance has also enabled Microlink to meet the criteria for its proposed transfer listing to the Main Market of Bursa Securities, which was announced on 12 July 2022. The official submission to the Securities Commission for the transfer was also completed recently, marking the next step in the transfer application and approvals process.
Recent successes for Microlink have included a key project valued at some RM35.1 million awarded by Jabatan Pengangkutan Jalan (JPJ) Malaysia. The three-year project involves the development of an Open System Platform for the Automatic Awareness Security or AwAS System infrastructure.
Under its Trading & Distribution business pillar, Microlink also represents some of the world's leading hardware/software principals, including Hitachi Vantara, HP Enterprise, IBM, Lenovo and Oracle, as well as Aruba, Group-IB, Sangfor and Stratus. The Distribution business has been recognised with multiple awards from several of the principals including IBM, Lenovo and HP Enterprise.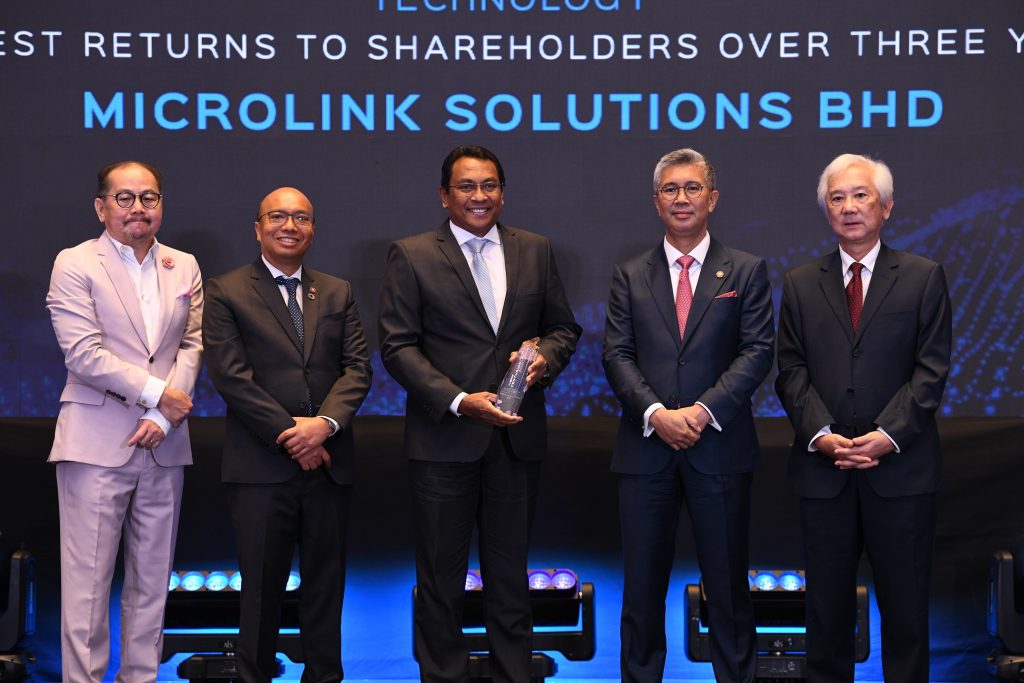 Photo: (L to R) YBhg Tan Sri Datuk Tong Kooi Ong ( Chairman of The Edge Media Group), YBhg Dato' Abdul Rahman Ahmad (Group CEO of CIMB Group Holdings), Ramlee Abdullah, (Group CEO Microlink) YB Senator Datuk Seri Utama Zafrul Tengku Abdul Aziz (Minister of Finance Malaysia), and YBhg Dato' Ho Kay Tat (Publisher and GCEO The Edge Media Group)