7 November 2022 : Malaysian-based technology solutions provider Microlink Solutions Berhad (Microlink) has cemented its presence in Vietnam with the signing of a Memorandum of Understanding (MOU) with AquaOne Corporation, following on from its existing technology engagement with leading insurance provider Vien Dong Assurance Corporation.
AquaOne is one of the leading water supply and treatment companies in Vietnam. The MOU between Microlink and AquaOne will explore a number of areas including digitalisation of business automation processes, business analytics, Internet of things (IOT) and advanced automation and monitoring technologies.
Present at the MOU signing was Microlink Group CEO Ramlee Abdullah, who said, "We are delighted to be signing this MOU with AquaOne, another of Vietnam's leading businesses and one with a vital mission: to provide a reliable and consistent supply of clean water to the local community. The digitalisation initiatives that we will explore together via this MOU will contribute to ensuring that AquaOne is able to achieve its drive for advanced business automation and becoming a pioneer in the field of environmental technology.
AquaOne Chairman Madam Lien, said, "Our goal is for AquaOne to grow even faster to help fulfil our Government's targets in resolving the urgent social issues for the Vietnamese people, particularly in terms of basic utilities such as clean water. In order to achieve that goal, we need a worthy technology partner to help the corporation move forward in the time of Industry 4.0. We are confident that Microlink will be that partner, supporting us in terms of technology, giving us wings to achieve our sustainable development goals "for a healthy Vietnam"."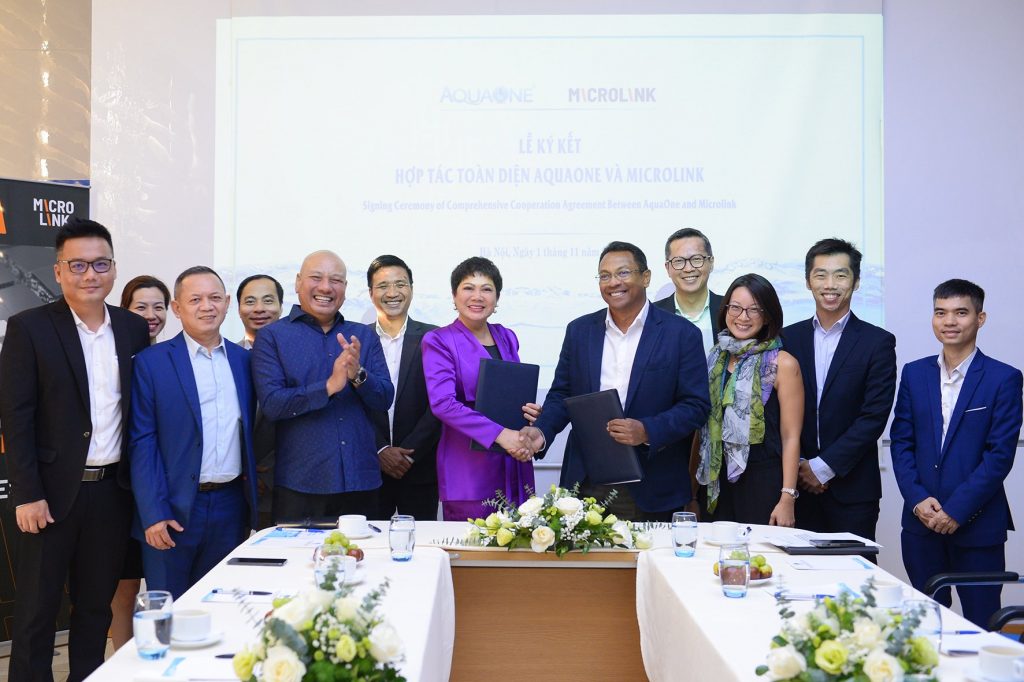 (Signing of Memorandum of Understanding (MOU) with AquaOne Corporation)
The new venture continues the digitalisation work that Microlink is already carrying out in-country for Vien Dong Assurance Corporation(VASS), one of the most popular household names in the local Insurance industry. VASS began its digital journey back in 2018 when it became one of the first Insurance providers in Vietnam to offer mobile engagement capabilities to its partner ecosystem. In order to take its digital transformation journey to the next level, VASS approached Microlink to develop a blueprint for a Customer Data Platform, comprising several key components to achieve swift go-to-market and increased customer base.
VASS Founder & Chairman Madam Lien, said, "With the new Microlink Insurtech platform in place, we at VASS will be able to leverage on our strong foundation in the insurance industry to drive and build an ecosystem of businesses that is centred around our insurance products and services, while ensuring that our customers are at the heart of that ecosystem. We very much look forward to launching the new platform to the market."
Ramlee added, "We are truly excited to be working in this dynamic environment with such visionary companies as VASS and AquaOne and we look forward to building a successful and productive partnership with both organisations to achieve their digital transformation."
The Insurtech platform is being implemented via a phased approach, enabling faster go-to-market, which will be key to VASS securing increased customer base and generating new revenue.
The key modules of the Insurtech platform are the Digital Sales Portal, a one-stop-shop for all VASS products and services where customers will be able to digitally purchase their insurance policies via the Portal, obtain quotations, perform plan comparisons, and purchase add-ons and value-added services. VASS' current pool of partners and agents will also be able to access the Portal from any location or device.
The Customer Portal allows customers and agents to check and validate policies online and make online claims, helping to speed up claims processing, elevating customer service to the next level. The third key component is the Insurance Marketplace, providing open choices for customers via a true marketplace where various ecosystem partners are able to provide their services and offerings in the same environment.